Ready Steady Po Lyrics Is Of Movie Chennai Express is sing by Brodha V ,Natalie Di Luccio, Smokey and Enkore, And The Music by Vishal Shekhar and Song lyrics are written by Amitabh Bhattacharya. Movie starring Deepika Padukone and Shahrukh Khan. It is produced by Karim Morani, Gauri Khan, Siddharth Roy Kapur, Ronnie Screwvala, and directed by Rohit Shetty. Lyrics Song of Ready Steady Po Is Given Below Check.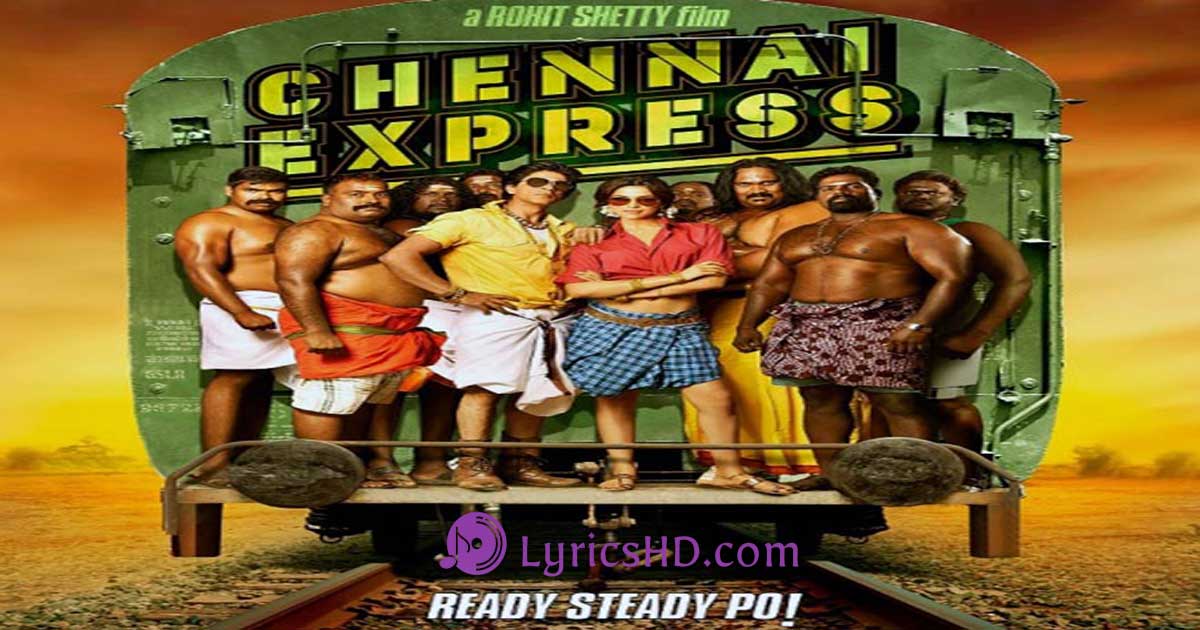 Song Lyrics And Video Song Is Given Below
Ready Steady Po Song Detail
Song: Ready Steady Po
Album: Chennai Express (2013)
Singer: Natalie Di Luccio, Brodha V, Smokey, Enkore
Musician: Vishal Shekhar
Lyricist: Amitabh Bhattacharya
Star Cast: Deepika Padukone, Shahrukh Khan etc.
Director: Rohit Shetty
Music Label : T-Series
Teri aankhon ka ishara, can't take it no more
Tu ready to main steady
Say ready steady po
Tarkeebein teri kaisi, oh no! no no no!
Tu ready to main steady
Say ready steady po
Step to the rhythm I believe in stuck in them
Better than the best n I don't give Aah!

Listen them killer beats till a freak of a man
Messing up with me you b b better eat medicine
Think out of the packet and little bit more
Stepping to the city, and somebody wore
The question is about the matter of folk
And getting it off, cause we getting it on
Sing it
Aankhon se aankhein mil gayi
Ho gayi thodi difficulty
Jo mere dil mein thi
Wo baatein uske dil mein bhi
You may feel
Round n round (ghuma de lakdi)
In your town (uhh uhh)
Ready steady po
Buzz me out (etha lakdi)
You may sound (ghuma de lakdi)
Underground (uhh uhh)
Ready steady po
Ready steady po po po
Ready steady po po x (4Times)
I feel so incredible
Party like an animal
Hope you dudes can feel that too
Wakin' up from last night
Right back in the fast life
Now that we go make noise like
Now baby come and give a tea and a pleasure and
Kick with a individual what you gotta be together with
Every second, every minute I'm do it right
Get better, edit again, edit again and I
Tu meri tarah bum ba bum, ba bum
Saansein bhi hui hot garam garam
Heart beating like jump ba bum, ba bum
And you are full of sound
You may feel
Round n round (ghuma de lakdi)
In your town (uhh uhh)
Ready steady po
Buzz me out (etha lakdi)
You may sound (ghuma de lakdi)
Underground (uhh uhh)
Ready steady po
Ready steady po po po
Ready steady po po.. (x4)
Etha lakdi (what we say)
Ghuma ke lakdi (what we do)
Put your hands up and waive
Everybody (poo poo)
Aankhon se aankhein mill gayi
Ho gayi thodi difficulty
Jo mere dil mein thi
Wo baatein uske dil mein bhi
You may feel
Round n round (ghuma de lakdi)
In your town (uhh uhh)
Ready steady po
Buzz me out (etha lakdi)
You may sound (ghuma de lakdi)
Underground (uhh uhh)
Ready steady po
Ready steady po po po
Ready steady po po x (4Times)
Ready Steady Po Video Song
More Lyrics From Chennai Express