Fatafati Lyrics From The Movie Barfi And Fatafati Song Lyrics Is Sung By Arijit Singh, Nakash Aziz, Ranbir Kapoor. And The Music By Pritam Chakraborty. And The Lyrics Was Written By Amitabh Bhattacharya. The Barfi Movie Starring By Ranbir Kapoor,Priyanka Chopra,Roopa Ganguly,Ileana D'Cruz,Sumona Chakravarti,Saurabh Shukla,Arun Bali,Ashish Vidyarthi,Kenneth Desai,Bholaraj Sapkota,Uday Tikekar,Akash Khurana. And The Movie Is Directed By Anurag Basu. Lyrics of Fatafati Song Is Given Below.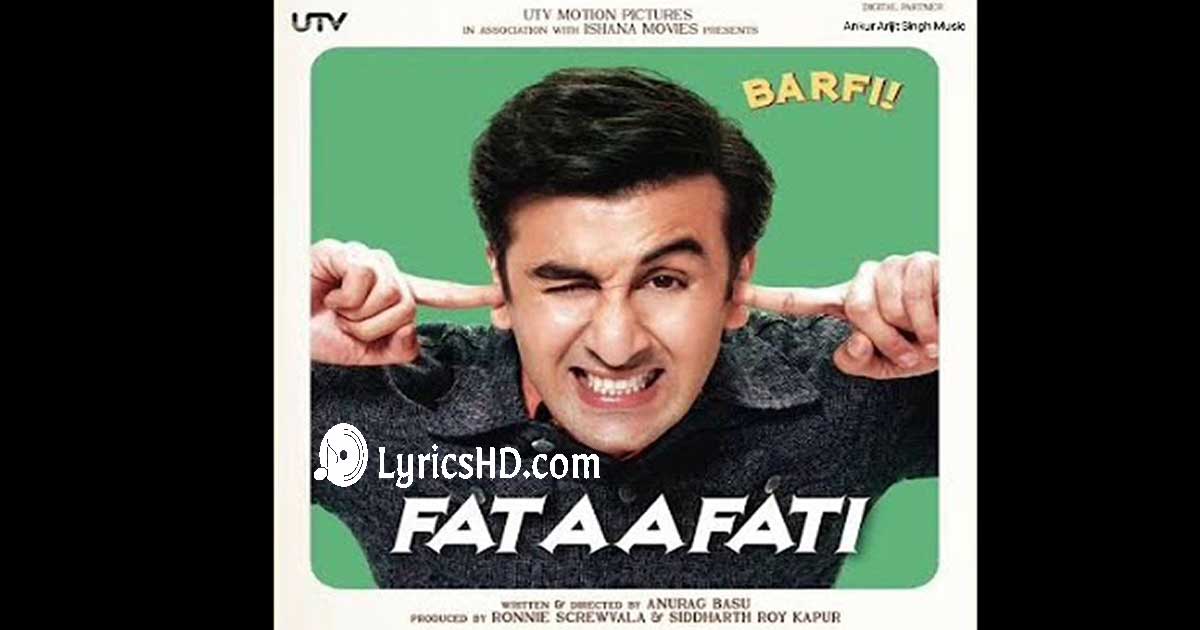 Song Lyrics And Video Song Is Given Below
Fatafati Song Detail
Song: Fatafati
Album: Barfi (2012)
Singer: Arijit Singh, Nakash Aziz, Ranbir Kapoor
Musician: Pritam Chakraborty
Lyricist: Amitabh Bhattacharya
Star Cast: Ranbir Kapoor, Priyanka Chopra, Ileana D'Cruz etc.
Director: Anurag Basu
Language: Hindi
Music Label : Sony Music
Aaahhhhaaahhhh aaahhhhaaahhhh burrr
This is burrrpy song
Hori situation vishan gambheer o hai
Before enter character ranbeer o hai
Producer boli becho na ha becho na (becho becho)
Item gaan koi socho nan
Aisa koi beat bajao
Usko repeats bajao
Hi hi hi..
Aisa koi beat bajao
Usko repeat bajao
Jo bhi sune mast hoke bajao
Jo bhi sune mast hoke haan zabardast hoke
Jo bhi sune mast hoke prankapoka jage re
Fatafati fatafati laage o laage re
Fatafati fatafati laage
Fatafati fatafati laage o laage re
Fatafati fatafati
(what f**k is fatafati man)
Fatafati means is…
Is she a new actress.. no man.. aaow
Engreji mein awsum kickass
Bangali mein fatafali
Engreji mein awsum kickass
Bangali mein fatafali
Bangali mein fata
teri chaddi mein fatafati
Boma bom, boma bom, boma bom bada ke
Baaja gaaja loud zara baje
Dam dam, dam dam thumka laga ke
Gali gali rowdy sare nache.. ishhh
Aaga peecha mast hoke
Haan zabardast hoke
Aaga peecha mast hoke
Haan zabardast hoke
Jo bhi sune mast hoke bankaprata jage re
Fatafati fatafati laage o laage re
Fatafati fatafati laage
Fatafati fatafati kela o kela re
Fatafati fatafati laage
Bolo disco karo kathak
Bana hans bana batak
Bolo disco karo kathak
Bana hans bana batak
Kut masala ankha saabut
Nasta nabut nasta nabut
Gori ke gal pe kare kuchu kuchu
Bhai ke gal pe kare kuchu kuchu
Mataji pitaji gaye machupichu
Mataji pitaji gaye machupichu
Jhumein re nachein re gaye janta
Bhad mein jayein re sari chinta
Jhumein re nachein re gaye re
Kajol, karina, rani mukherjee,
prity jinta jinta jinta
Fatafati fatafati laage laage laage re
Fatafati fatafati laage o laage re
Fatafati fatafati laage
Laage…
Fatafati
Fatafati fatafati laage o laage re
Fatafati fatafati laage